Preparations for a wedding usually take a long time and bring with them a lot of stress for both the newlyweds-to-be.
Nevertheless, most couples remember their big wedding day for the rest of their lives and therefore commemorate this beautiful day every year by celebrating their wedding anniversary.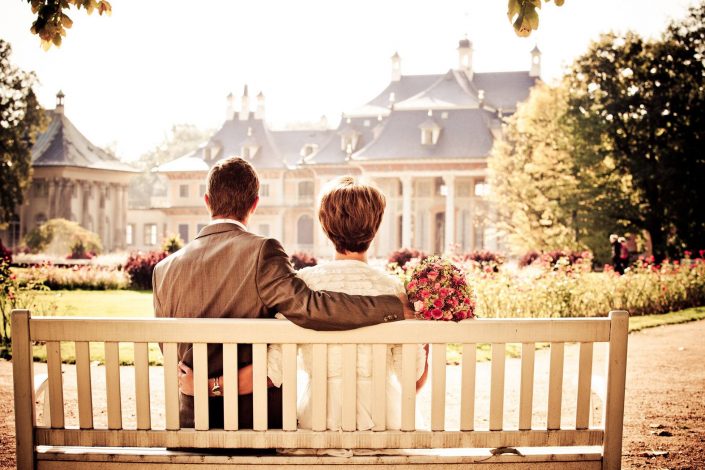 Wedding anniversaries names by year
One of the days that, although not among the public holidays, but nevertheless, is celebrated by spouses with popularity is the day of the wedding anniversary.
On this day, spouses commemorate another year of cohabitation. Probably we all know the most famous anniversaries like golden, silver and diamond weddings.
Don't know what gift to give for the anniversary? Take a look at our recommended wedding anniversary gifts.
But do you know what are all the wedding anniversaries and their names, or do you know what flowers or jewellery is worthy of gifting on that anniversary?
If not, take a look at our table where you can see everything clearly and in one place.
| Wedding anniversary (years) | Wedding name | Flower | Stone, jewel |
| --- | --- | --- | --- |
| 1 | Cotton | Carnations | Pearl Products |
| 2 | Paper | Lily of the valley | Garnet |
| 3 | Leather | Sunflower | Moonstone |
| 4 | Floral (Fruit) | Hydrangea | Blue Topaz |
| 5 | Wooden | Daisies | Rose Quartz |
| 6 | Iron (Zinc) | Sludge | Amethyst |
| 7 | Wool (Copper) | Freesia | Onyx |
| 8 | Bronze (Metal) | Lilac | Tourmaline |
| 9 | Clay | Strelitzia | Lazurite |
| 10 | Pewter (Pink) | Daffodil | Green Tourmaline |
| 11 | Steel | Tulips | Turquoise |
| 12 | Silk | Peonies | Jade |
| 13 | Lace | Chrysanthemums | Citrine |
| 14 | Ivory | Dahlia | Opal |
| 15 | Crystal (Glass) | Rose | Rhodonite |
| 20 | Porcelain | Asters | Emerald |
| 25 | Silver | Iris | Tsavorite (Green garnet) |
| 30 | Pearl | Lily | Pearls |
| 35 | Coral (Linen) | | |
| 40 | Ruby | Gladiolus (Swordfish) | Rubies |
| 45 | Sapphire | | |
| 50 | Gold | Yellow roses, Violets | Gold |
| 55 | Emerald | | |
| 60 | Diamond | | Diamonds |
| 65 | Stone | | Sapphires |
| 70 | Platinum (auspicious, brilliant) | | |
| 75 | Crown (celestial) | | |
| 80 or more | Multi-platinum | | |
Wedding Anniversary Gifts
If you are thinking of a tried and tested gift for your loved one, we bring you a number of tips for both men and women.
1. Cotton wedding
You are celebrating your first wedding anniversary and therefore a cotton wedding. As a suitable bouquet, give a bouquet tied with carnations or pearl products.
Tradition and the name of the wedding dictates that you gift each other handkerchiefs or other cotton products.
2. Paper wedding
And there's the second anniversary where, as the name suggests, couples should gift each other paper products.
According to earlier customs and traditions, couples should make a paper boat on their own on the anniversary day and launch it on the water together as a symbol of their journey together and apart.
If you don't feel like making a paper boat, you can give your partner another paper gift – a book, a voucher for a massage or cosmetics, your partner will certainly not disdain tickets for various performances.
If you want to choose a bouquet, have a bouquet of lilies of the valley and jewellery made of Czech garnet.
3. Leather wedding
Celebrate your third anniversary together with a puget of sunflowers and moonstone products.
The name of the anniversary itself implies that couples should give each other leather products: handbags, wallets, belts or shoes, which we recommend avoiding because of the superstition "about breaking up".
4. Floral wedding
You have been together for 4 years and are celebrating a floral wedding, sometimes also called a fruity wedding. An appropriate gift is a bouquet of hydrangeas and jewellery with blue topazes.
You can also reach for the alternative of a fruit basket or gift a fruit tree, the fruits of which you can both enjoy in the future.
5. A wooden wedding
For the first half-anniversary, this is a wooden wedding, the wife will appreciate a delicate daisy bouquet and a rose quartz necklace.
You have been together for 5 years and according to tradition, you should gift products made of wood.
For the wife, various wooden decorations are suitable, such as a wooden heart or a frame with your joint photo.
Your man can get a wooden watch, bow tie or bracelet.
6. Iron wedding
Celebrate your sixth anniversary, also known as a zinc wedding, with a beautiful bouquet of calla lilies, complete with fashionable amethyst accessories.
Tradition dictates that after 6 years in marriage, you give iron products as a symbol of your strong bond.
7. A woolen wedding
A woolen wedding, sometimes called a copper wedding, celebrates the anniversary of 7 years of togetherness.
You can give a bouquet of freesias, accessories made of black and white onyx stone (pendant, ring, bracelet), or something woolen – a sweater, overalls, scarf or gloves.
Copper accessories and jewellery are also in the cards. So choose the material of the gift according to the taste of your counterpart.
8. The bronze wedding
Bronze – Tin wedding, which is an alternative name for bronze wedding, is celebrated after 8 years of marriage.
You can gift a bouquet of differently coloured, and most importantly, extremely fragrant lilacs, to which you can add jewellery made of bronze or tourmaline, which can be black or more appropriate for the occasion – pink.
9. A clay wedding
The ninth year and a clay wedding – your dear half will appreciate a bouquet of strelitzia, especially if it is accompanied by jewelry made of lazurite or clay products (mug, flowerpot, dishes, figurines).
10. Tin wedding
And here we have the first big wedding anniversary – the tin wedding, which is celebrated after 10 years of marriage. You will delight your wife with a bouquet of spring daffodil flowers, complemented by a green tourmaline stone.
Celebrating 10 years of marriage, tradition says you should pour lead together or give each other pewter figurines.
11. Steel wedding
You have been together for 11 years, you can gift your wife a simple bouquet of tulips and blue turquoise jewellery.
If you want to stay true to tradition, you should consider buying surgical steel jewelry.
A man can receive an army knife made of quality steel, a steel chain or a bracelet.
12. Silk Wedding
You can start celebrating 12 years in marriage with a bouquet of peonies in one hand, jade stone jewelry in the other.
And as the name of the anniversary suggests, silk scarves, shawls, ties or linens are the right gifts for this year.
If you are creatively skilled, you can try making a simple tissue paper flower on your own. But your wife will also appreciate silk oil, for restoring the beauty of her hair.
13. Lace wedding
For the 13th anniversary, a bouquet of chrysanthemums, citrine stone or lace products are suitable.
Since men probably won't dare to buy the dress themselves, we recommend sticking to the classics – lace panties or bras, gifts that men indirectly gift themselves with :).
14. Ivory wedding
14-year anniversary, ivory wedding. It is suitable to give a bouquet of dahlias, jewelry with opals – earrings and rings.
If you want to stay true to tradition and do not like the way ivory is obtained, you should purchase ivory products.
15. Crystal wedding
You are celebrating 15 years since your wedding and therefore the second half-anniversary, called a crystal wedding, sometimes also a glass wedding. You can't go wrong with a bouquet of roses, especially if they are accompanied by a rhodonite pendant.
We believe that even cut glass or crystal will make your dear half similarly happy as the above-mentioned gifts.
20. Porcelain wedding
You are celebrating 20 years since your wedding and are therefore celebrating a porcelain wedding.
When thinking of valuable gifts, be sure not to forget the aster bouquet and emerald jewellery.
We don't know your loved one, so we don't know if they would appreciate the traditionally recommended purchase of porcelain products, such as dinnerware.
25. Silver wedding
One of the most commonly inflected names when it comes to wedding anniversaries, the silver wedding is celebrated on 25 years of togetherness.
For the bouquet, you should give an iris, the mineral tsavorite (green garnet) or a piece of silver jewelry. This can be earrings, pendants, bracelets or watches.
Wives can choose silver money clips and tie or cufflinks as an anniversary gift for husbands.
30. Pearl Wedding
Celebrating 30 years since your wedding? Then you are celebrating a pearl wedding.
A suitable bouquet is one tied with beautiful lily blossoms and as the name of the wedding suggests, you can't get anything but pearls as jewellery, which are a symbol of purity, wisdom and innocence.
You can invite your husband to a seafood dinner, for example.
35. A coral wedding
35th wedding anniversary, coral, sometimes also linen wedding.
As you can guess after all these years of living together, the wife will appreciate products made of sea coral (ring, earrings, bracelet) rather than linen or canvas.
The husband can get scuba diving at a coral reef in Egypt, for example, or at the Great Barrier Reef in Australia.
40. Ruby wedding
The 40th anniversary of your wedding is behind you. It is fitting to gift something special for the occasion, a bouquet of gladiolus will be a given.
As a gift for a woman can not miss a piece of jewelry made of beautifully red rubies – a pendant, earrings or a ring.
For a man, you can make him happy with a fine red wine.
VIEW RUBY JEWELLERY
45. Sapphire wedding
After 45 years, the wife will expect only one thing, a sapphire jewel, but we are sure that she will not disdain any other interesting jewel.
50. Golden Wedding
And there is probably the most talked about anniversary, the so-called golden wedding. This is celebrated by couples who have lived together for half a century, i.e. celebrating 50 years since their wedding. At this moment, a bouquet of yellow roses is given, and most importantly, a gold jewel.
This wedding anniversary is also the first anniversary on which the increasingly popular renewal of the marriage vows can be performed, when the couple reunite close family and friends and publicly renew their marriage vows in front of them.
On this occasion, couples can also exchange new wedding rings, tailored to their current size or taste.
55. Emerald Wedding
Five years later, the couple celebrate their emerald wedding, marking 55 years in marriage. Emerald accessories, such as earrings or a pendant, are suitable as a gift and will work out more financially.
Diamond ring as a wedding anniversary gift
60. Diamond wedding
After 60 years in marriage, celebrate a diamond wedding.
As the name suggests and tradition dictates, you will have to dig deeper into your pocket and purchase a diamond jewelry.
But you don't have to immediately dread the idea of buying an expensive diamond ring. Your wife will surely appreciate a small diamond pendant as well.
65. Stone wedding
Your marriage is rock solid after 65 years, so as a gift it is appropriate to give either a product made just of stone, which symbolizes the strength of your union, or a piece of jewelry with sapphires.
70. A platinum wedding
You have been together most of your lives, you have been together for 70 years, you are celebrating a platinum wedding sometimes also called a diamond wedding. Celebrating your marriage would thus merit the gift of something valuable, such as diamonds and platinum jewellery.
75. A coronation wedding
Couples who have celebrated another anniversary together, the 75th, celebrate a coronation wedding. You can celebrate it with a tied bouquet or a beautiful piece of jewellery.
How to celebrate a wedding anniversary?
It all depends, of course, on your current financial possibilities, and at an advanced age also on your health.
Younger couples can go on an adventure trip to Asia, Africa or South America, for example. Those who prefer a more relaxing holiday will prefer to go on a relaxing holiday by the sea or to one of the wellness centres.
If you love romance but can't take a longer holiday due to work commitments, and you'd still like to go abroad, you can go for a long weekend in a European city that just oozes love: Paris, Venice, Rome.
You can also treat your partner to a romantic dinner at one of your favourite places, go to the theatre or a concert.
Whichever way you choose to celebrate, be sure to put aside all work obligations for the day and reserve all your time for each other, your partner will undoubtedly deserve all those years together.
Wedding Anniversary Wishes
Are any of your friends or family celebrating their wedding anniversary? Wish them on their significant anniversary with a card.
Congratulations on your wedding anniversary can be done both verbally and in writing, where you don't have to be afraid to be funny, or you can add a short poem or quote.
If it is your loved ones, especially your parents, who are celebrating a golden wedding and thinking about renewing their marriage vows, you yourself will recognize that a mere congratulatory message is probably not a very appropriate gift.
Instead of a mere congratulations, you can give your parents some interesting gift or help them with the preparations for their new wedding.
As part of the preparations, you can take part in the preparation of invitations, in the organization of the venue or assist in the selection of the wedding anniversary cake.