The weeks of arranging, choosing and organizing associated with your wedding are over. While all the effort has been crowned by that wonderful moment when you said YES to each other and began your journey through life together, you would surely like to celebrate the new beginning of life with a few days or weeks alone for two, somewhere away from all the everyday worries. It's time to go on your honeymoon!
Honeymoon – how to proceed when choosing a honeymoon?
I'm sure you've talked about the honeymoon during all the wedding preparations. As with the wedding itself, it's important that you agree on the destination of your honeymoon or choose a suitable compromise. Your honeymoon can be symbolic, relaxing and restful or adventurous and full of extraordinary experiences. It's up to you which option you choose.
As part of the planning process, the first thing you'll want to do is consider your financial options, which will yield a list of locations you can go to.
Then, choose a location that meets all the requirements you expect from your honeymoon.
The points:
Set a financial budget for your travels.
Choose a location.
Read reviews of hotels in the location.
Determine your travel dates, keeping in mind the weather.
Make reservations and book your trip. Enjoy each other 🙂
OUR TIP:Not sure which hotel or location to choose? Read hotel reviews and other people's experiences.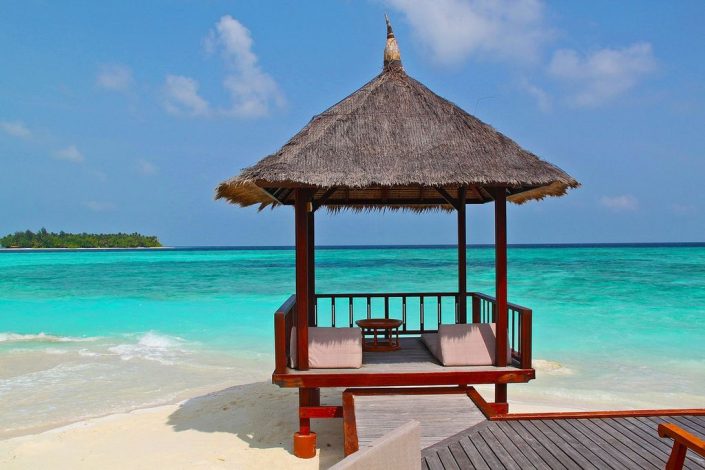 How to finance your honeymoon?
First and foremost, many couples tackle the question of financing the honeymoon.
If you are planning a longer and more financially demanding trip, everything needs to be factored into the wedding budget.
If you don't want to spend your own money on the honeymoon, you can, like most other newlywed couples, ask your wedding guests for a financial donation instead of material gifts.
Often, this will give the newlyweds enough funds to cover the entire honeymoon.
When planning or directly booking your honeymoon, we recommend taking advantage of first minute or last minute travel deals, where you can save units or tens of thousands that can be used to cover expenses at the vacation spot, for example.
Another interesting offer to consider is, for example, the possibility of a honeymoon discount on holidays offered by the price comparison websites.
If you present your marriage certificate when booking your trip, you will receive a discount of 10 – 35%.
This discount is only valid for newlyweds who get married at least 3 months before departure.
At home or abroad?
Your destination can be a place that is significant to you in some way, such as where you met, where you went on your first holiday together or where the proposal was made. There are plenty of possibilities.
If you're more of a relaxed, sweet, do-nothing kind of person and like to be pampered, you'll probably head to the seaside or a spa resort. Adventurous natures, however, are not likely to resist taking advantage of this special occasion to fulfil one of their dreams and head off to one of their dream destinations.
As the classic saying goes, "anywhere is good, home is best." Why not, there are plenty of beautiful places to go. There are mountains, for example, where you can hide away from the crowds in the beautiful countryside and enjoy yourself.
Moreover, it is already common in our country for larger mountain huts to offer an interesting range of wellness activities. You can combine long day trips and pleasant evenings with romantic relaxation in the whirlpool, sauna or candlelit bath.
Some, on the other hand, prefer to head to cities where they can enjoy culture, history or gastronomy while wandering endlessly through the streets, even in this case, the well of possibilities in the Czech Republic is almost inexhaustible and there are countless interesting places to discover.
Either way, honeymooning in home country, apart from the common language, an undeniable advantage and that is the possibility of repeating the honeymoon every year, for example, as part of a wedding anniversary celebration. But most of you will probably want to indulge in a holiday away from home.
If, on the other hand, you are a believer in the motto: "it's good everywhere, so why be at home", head beyond the borders of our country.
There are many cities in Europe that are renowned as cities for lovers (Venice, Paris, Rome). These will surely guarantee you unforgettable romantic experiences and beautiful moments together.
For those who prefer the sun and relaxation by the sea, Europe can also offer a wide range of resorts from the most modest to the most luxurious. And for those who prefer a little bit of everything, there are gorgeous corners of nature and scenery to give your honeymoon just the right atmosphere.
Are you tempted by the exotic? After all, weddings and honeymoons are usually once in a lifetime, so why not treat yourself to something truly special? The whole world is here to offer you interesting experiences to satisfy your desire to enjoy a magical moment to your liking.
Would you like a honeymoon in the exotic?
It's more complicated with exotic destinations.
Most weddings take place in the summer and this is often the peak of the rainy season in these countries.
You really need to think about this months in advance and either postpone the wedding date to suit your honeymoon or postpone the actual honeymoon.
The exceptions are destinations that can be visited practically all year round (Zanzibar, Maldives, Bora Bora).
In spite of all this, the wait is worth it and you are in for unforgettable moments and breathtaking scenery.
Where to go on your honeymoon? Choose from popular destinations:
Maldives
Bora Bora
Cape Verde
Caribbean
Zanzibar
Dominican Republic
Dubai
Mauritius
Venice
When to go on your honeymoon?
You'll definitely want to take a few days off after the wedding, rather than immediately thinking about packing and other honeymoon worries. But don't put off your trip for too long, after all, this is the icing on the cake that will finish off the whole wedding process.
As far as the best time of year to go on a honeymoon is concerned, this cannot be determined unequivocally. It depends on the area and especially on the season that prevails in the destination. For example, when the winter months are underway in our country, it is advisable to go to South America or Asia, where the weather is much more pleasant, as it is astronomical summer. Conversely, in our spring and summer months, you may experience periods of rain and hurricanes in these areas – travel during this period is definitely not recommended.
If you're planning a trip to some of the southern parts of Europe and your main destination is the cities and sights, aim your honeymoon more towards the spring months (April and May), when temperatures in these areas are pleasant and around 20°C.
In summer, some cities can be unbearably hot, while in Venice you may be put off by the pervasive smell of the surrounding canals.
When to start preparing for your trip?
If you're going on a honeymoon here or in Europe, it's no big deal if you start making the necessary arrangements just a few weeks in advance, if not at the last minute, especially if it's within the European Union.
It's no problem to book online, and all European destinations are relatively easy to reach by air from us.
Another advantage is that most things can be arranged very quickly – no visas or vaccinations are needed, and you can usually pay in euros everywhere.
Travelling on your own is better to start planning a few weeks in advance.
You'll need to work out the places you'd like to go, accommodation and all the other things you'll need, so expect to sacrifice some planning time.
On the other hand, you can just arrange accommodation for the first few days and leave all the other plans up to a spur of the moment, spontaneous decision – so you can be pleasantly surprised every day by where you arrive, what places you visit and what experiences you have together.
Whether you choose to travel within the home country, across Europe or to the rest of the world, it depends on whether you travel on your own or with a travel agent.
You can also take the option to board a yacht and spend your entire honeymoon cruising the waters.
You can visit different places, disembark at different locations and enjoy a romantic dinner or an unforgettable trip, depending on your taste. After all, this kind of travel is full of experiences.